eSecure Mail: 360° managed email security
eSecure Mail has been designed from the ground up to enable effective email security management that keeps pace with the evolving threats facing today's organisations. Email-borne threats such as viruses, phishing attacks and spam grow more sophisticated by the day, and only eSecure Mail's multi-faceted approach can guarantee the best protection from threats and a solution that is constantly evolving in time with the email security landscape.
Although the sheer number of viruses has dropped in recent years their potential for damage has soared, and eSecure Mail keeps pace with today's evolving threats by utilising combined Anti-virus technologies from the world's top three vendors. Spam can be an even bigger problem for many organisations, and eSecure Mail can dramatically reduce the network bottlenecks, wasted disk space and lost productivity junk email brings. All of these features are monitored and controlled from an intuitive and user-friendly web dashboard designed to save significant time for both end users and IT support departments.
How it works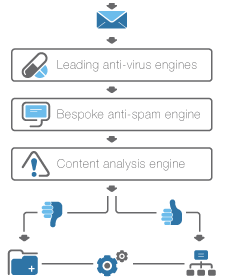 All incoming email for your organisation is routed via one of our Network Operations Centres and logged upon receipt. Mail is then scanned by our own anti-virus engine and the signature-based engines of three leading vendors, guaranteeing maximum possible protection.
Mail is then subjected to a battery of tests from our anti-spam technology which utilises heuristic scanning, distributed Checksum validation, User White/Grey/Black lists and our own Real Time BLack List alongside of known spamming IPs. Because eSecure Mail handles a much greater volume of mail than the average organisation our black list is incredibly comprehensive, and between these and other techniques more than 99% of spam is detected at this stage.
Finally all mail is scanned for illegal or illicit content: adult material, illegal music or movie files and even sensitive corporate documents. All mail is checked for content that breaks laws or your own internal policies, and dealt with accordingly.
After scanning mail is either sent on to end users or routed to a quarantine area. Administrators can create default rules for mail sent to quarantine, allowing suspect mail to be deleted immediately, cleansed and forwarded on, held for manual inspection and many other options. End users can also access a user-friendly control panel allowing them to manage their own black- and white-lists for spam, easing a great deal of the administrative burden for IT staff.
eSecure Mail features
Stops spam
eSecure Mail uses nine state-of-the-art anti-spam systems to minimise productivity loss and decrease the impact of spam on network operations: Real-time black lists, pattern scanning, heuristic analysis, SPF, BATV, URLs, user black/grey/white lists combine to stop most spam before it eve reaches our client's servers.
Stops viruses
eSecure Mail achieves unmatched detection rates for both known and unknown ("zero-day") threats. All SMTP and POP3 traffic is scanned by three leading anti-virus engines, ensuring the broadest possible protection.
Prevents phishing
Lexical analysis and URL filtering all but eliminate phishing attempts reaching your user's inboxes. Our engineers are on the look out for the latest scams (and scammers) 24/7, ensuring defences against new threats are always incorporated quickly.
Encrypts and signs emails
Mail can be encrypted and digitally signed using the OpenPGP and S/MIME standards for maximum possible security. There is no need for client software - everything is handled transparently at the eSecure Mail gateway.
Allows flexible rule configuration
A host of options are available to IT administrators managing eSecure Mail. Both POP and SMTP traffic can be scanned for correct HELO, suspicious sender or attachment characteristics and much more, with a simple control panel allowing you to tailor these settings to best match your organisations needs rather than use our off-the-shelf configuration.
Provides superior email flow control
Suspicious emails can be tagged, subject marked and sent on, quarantined or deleted allowing flow control to happen at the server, on the client or a combination of the two.
Devolves spam management to users
Domain-wide policy is, of course set and managed by IT administrators, but the eSecure Mail control panel allows direct spam management to be handled by users, saving many man-hours for IT departments and allowing users greater control over their own spam threshold.
Supports multiple languages
Including non-roman character sets.
Enhances business continuity
eSecure Mail stays running even if your network has problems. All you need to access eSecure Mail in an emergency is a web browser.
Ensures regulatory compliance
Archiving is performed automatically inline with your corporate policies and regulatory guidelines or rules.
Delivers advanced security
in conjunction with eSecure Monitor the email servers of all eSecure Mail clients are protected against exploits with our Intrusion Protection Service.
Find out more about eSecure Mail: 360° managed email security
If your organisation needs anti-virus, anti-spam, content analysis and the benefits of a fully managed email security solution please contact us today.